The Ave Maria Foundation
THE COMPASS GROUP
Nicholas W. Scully
Carol Thornton
and Wings of Ave Maria
Gala Dinner
Sunday, October 1
T P C Southwind
Reception 6:30 p.m.
Dinner 7:00 p.m.

17th Annual
Father Leonard Oglesby
Memorial Golf Tournament
Monday, October 2, 1 p.m.
TPC Southwind
Thank you for your interest in Ave Maria's Gala Week.  Unfortunately, we are unable to accept any more reservations for the October 1 Gala Dinner  or October 2 Golf Tournament, as we have reached capacity for both events.
4-Person Scramble, "Par Is Your Partner"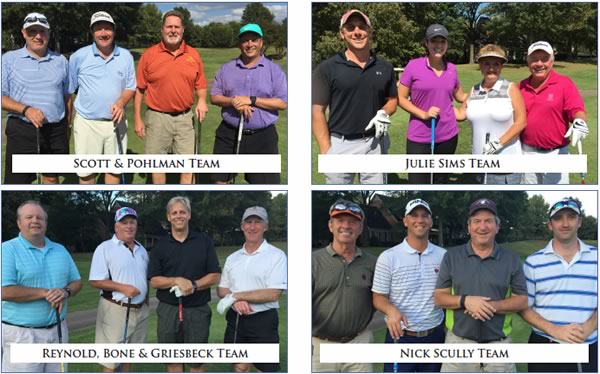 Scott and Pohlman, P.C., had the winning team in 2016.
Gala Week Information
On Sunday, October 1, Ave Maria's Gala Dinner will honor will honor Rev. Msgr. John B. McArthur, a priest in the Catholic Diocese of Memphis, and a friend and advocate for Ave Maria Home and its residents and for many organizations in our community; three Wings members Libby Buring, Mary Webb and Ann Wilson, each of whom have been involved with Ave Maria for over 25 years; and former family member and long time volunteer Barbara Spinosa. Our honorees have generously given their time, talent, and resources to Ave Maria and to our community and will be toasted with a reception and dinner at TPC Southwind. Cocktails begin at 6:30 p.m., followed by dinner at 7:00 p.m.
Then on Monday, October 2, Ave Maria's 17th Annual Father Leonard Oglesby Memorial Golf Tournament will be held at TPC Southwind. This popular golf scramble, "Par is Your Partner," is held in memory of Father J. Leonard Oglesby, the first resident at Ave Maria Home and an Ave Maria Board Member Emeritus. Registration and practice area with a box lunch begins at 11:30 a.m., followed by a 1:00 p.m. shotgun start.
Proceeds from this year's Gala Week will be used to support resident programs and activities and help grow Ave Maria's endowment in order to assist residents who are exhausting their financial resources. On behalf of our residents and clients, thank you for your support.