Tuesday Newsday: Family Caregiver Support Group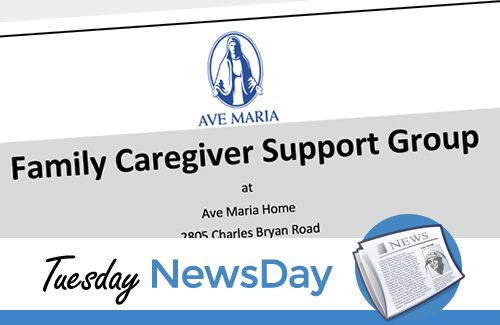 Family Caregiver Support Group
at Ave Maria Home
2805 Charles Bryan Road
Bartlett, TN 38134
First Tuesday of Each Month
Please join us on Tuesday, May 7th
5:30 p.m. – 6:30 p.m.
Guest Speakers: Regina Pallera, PT, CCI, SCCE, SFS & Jazel Pallera, PT, CCI
from Methodist North Hospital
Topic: Sundowning and Alzheimers Disease
This support group is intended for individuals who have a family member facing issues related to the aging process.
Come Listen   ~   Come Share   ~   Come Learn
Snacks and Refreshments are provided for attendees.
To RSVP, Please Contact Below:
Valerie Harris at 901-386-3211 ext. 2007
or
Peppy Smith at 901-386-3211 ext. 2014